JUDAH HYAM HALL (1956)
2, Humayun Road
(opposite the Taj Mahal Hotel and near Khan Market)
New Delhi 110003, INDIA
---
This is an active congregation and functioning synagogue where Shabbat and other services and holiday celebrations are held for a native community, expats, diplomats, and tourists, but not consistently. A staff member/custodian is often on duty during regular working hours to receive and welcome visitors. The synagogue contact is Ezekiel Malekar (seen in photograph below) at This email address is being protected from spambots. You need JavaScript enabled to view it. and with telephone numbers "1124635500", "1124641058", and "9818317674".
---
In the years leading up to World War II, Delhi's Jewish population consisted of a small group of long-residing Indians joined by a community of transitory traders of Afghan, French, Russian, and other Asian and European descents. Since there was no synagogue in Delhi at that time, the Jews held prayer services in a private home located in Baratooti, Sadar Bazar in the old city. During World War II and after national independence in "1947" and the establishment of a national government and foreign embassies in the city, more Indian Jews and those in the diplomatic corps and foreign services moved to Delhi. Religious services, particularly for important holidays, were often held in the homes of the local community members.
To cater to the growing religious, social, and cultural needs of a sustainable and growing Jewish community in and around Delhi, the Jewish Welfare Association had been founded. This closely-knit and disciplined organization came to realize that a proper prayer space was needed. Whereas over the next five years only preliminary action towards realizing a building was taken due to a lack of funds, in 1954 Dr. Rachael Judah made a substantial donation to the project in memory of her father, Dr. Judah Hyam. Hyam was a distinguished civic and religious leader, teacher, and social worker in Pune before his death in 1935.
What came to be realized in 1956 was a hall built on a prominent site on Humayun Road (named after the sixteenth-century Mughal emperor) in New Delhi on land freely allocated by the Indian government. It was constructed by the Jewish Welfare Association according to the design of Mr. J. M. Benjamin, an accomplished Jewish architect in the city. In addition to a freestanding space dedicated for prayer services, Judah Hyam Hall came to include a center for Jewish and interfaith studies in an annex completed in "1979".
The hall, in a quiet upscale neighborhood with wide tree-lined boulevards, traffic circles, colonial structures, high-end hotels, and ample open space, was designed in a Modern architectural aesthetic fashionable at that time. Its design is clean-lined and stripped of most ornamentation. Originally it was painted off-white in the tradition of many Modern buildings, but today this has been altered and the exterior is more brightly colored. Unlike other Indian synagogues built during earlier periods or according to more traditional styles, this hall is flat-roofed, boxy and orthogonal in form, and features crisp lines and pure planes. Judah Hyam's most prominent feature is the grid of Stars of David along its façade. At night, these stars and the adjacent stone panels are back lit, which creates a dramatic and pleasing effect.
The sanctuary space, nearly a perfect square measuring 25' (8 m) and hence a departure from all other Indian synagogues with their rectangular rooms, is also a Modern space that is stripped of most ornamentation and flourishes. Judah Hyam also is different from all other synagogues in India in that its centrally-placed tebah (bimah/raised platform containing a table where the Torah is read) and heckal (ark) engaged on the wall are set on a diagonal. The reason may be that the marble-faced (originally wooden) heckal, as per synagogue convention, needed to be orientated towards Jerusalem, so the architect chose to contrast the geometry of the space with this shift in axis. Adjacent to the heckal along the northwestern elevation are large curtained windows providing natural light to the space.
Other design features of Judah Hyam include ceremonial and decorative lighting fixtures, a mixture of individual chairs as opposed to the wooden benches prevalent in other Indian synagogues, aggregate stone floor tiles (now carpeted over), painted plaster walls, framed Hebrew prayer verses hung from the walls, and a flat ceiling. The prayer hall is actively used today for prayer services and other events, and visitors are always welcome. Directly next door to the prayer hall compound, and divided by a solid wall, is the Delhi Jewish cemetery.
---
Exterior
---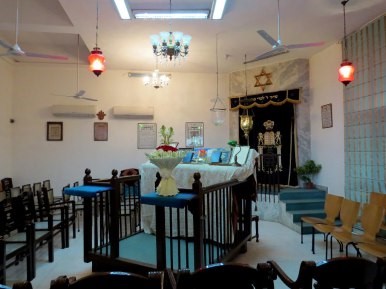 Interior
---