---
The author has known Reena for more than 40 plus years as a very enterprising, hardworking and dedicated person, in taking on challenges and making dreams convert to successful reality. Reena together with her equally talented husband Vinod, an Ex-Captain in the Merchant Marine, who qualified as a Seaman from the Reputed Training Ship INS Dufferin in India, have built themselves a chain of First Class Indian Cuisine Restaurants in Israel. The author of this article has traveled abroad frequently and knowing the finesse of Indian Cuisine, can quite confidently say that the Best Indian Restaurant in the world; as per his opinion; is The Tandoori/Kohinoor Chain of Restaurant of Reena & Vinod Pushkarna. The Author can confidently say their Indian Cuisine in their restaurants in Israel is even better than one can find in any restaurant in India.
Reena and Rita were twins born to Col. Arjun Singh and Matilda (nee Haskel Solomon) on 10 Feb 1958 in New Delhi India. In addition their parents had a son named Anil and a daughter Anita. Their parents also adopted the daughter of his brother Mitana. Being in the Military, Col. Arjun Singh, Ordinance Unit he had many postings all over India. Being among the youngest in the Family Reena was a thoroughly pampered child.
Reena upon graduation from school at the age of sixteen got married to a handsome Seaman Vinod Pushkarna a graduate of the Famous Merchant Marine Officers Training Ship (Was it Dufferin or Rajendra Prasad) in Bombay Harbor.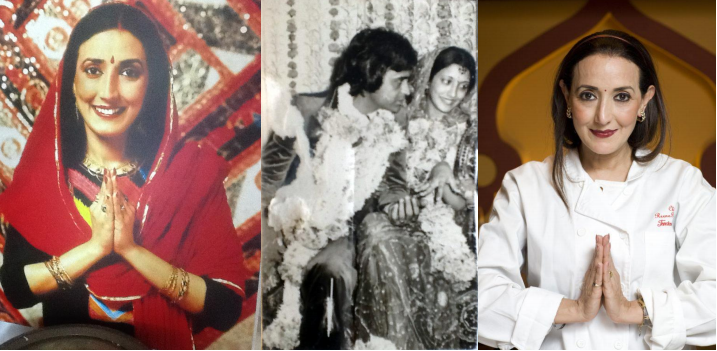 The Marriage of Reena and Vinod Pushkarna in 1975
---
Vinod's father was initially a Professor at Lahore University in pre-Independent India and then later at Delhi University. Vinod soon rose to Captain and for nine years sail the oceans and high seas with him. This gave Reena time to read books on a wide variety of subjects and learn cooking & its intricate techniques from the Ship's Chefs from a wide range of nationalities among them, Indian, Thai, Japanese, Indonesian and others, slowly making her an expert in her own rights. Here was laid the foundations of Reena in the Culinary World.
Along the way Reena & Vinod had two children, a daughter named Sarina and a son named Kunal. On many a voyage they joined their father and mother travelling to Far Away Exotic Places. They visited Israel several times and slowly began seriously thinking of settling in Israel. Upon immigration Reena and Vinod decided to do something together in order to live together as a Family and they decided upon a South Indian vegetarian restaurant/take away called "Ichikadana" after the famous Raj Kapoor Film Shri-420. At that period of time 1983, the general Israeli public was unaware of Indian Culture and Cuisine and Culinary arts. As a result this restaurant which was far ahead of its time did not succeed and Vinod her husband was ready to go back to sea. Reena convinced Vinod to give the Restaurant Business another try but this time a non-vegetarian one. With great hesitation (the author remembers) they opened The Tandoori Restaurant at Diezengoff Circle in Tel Aviv, taking over a small section of the Lobby of the Then Commodore Hotel- the restaurant initially had barely 10 tables.

Zubin Mehta Musical Director Israel Philharmonic Orchestra at the Tandoori
Restaurant Inauguration Ceremonies
---
The restaurant offered delicious and authentic North Indian Cuisine. It was a hit and soon the popularity of the Cuisine became so desirable to the Israeli palate that they slowly took over the entire lobby of The Commodore Hotel enabling the placement of 40 tables. The restaurant had authentic Indian Décor and an atmosphere often including Indian dancers and singers as accompaniment. The Concept of Fine Dining and fine Indian Cuisine was introduced by Reena and Vinod to the Israelis –"As our staff at that time were from the Top Hotels in India. I also introduced India's Top designers and Indian Fashion to Israel - who today are very successful in the west. Through food we introduced, interest in Indian Culture -by bringing in professional Dancers and Musicians from India.-as Israelis did not want to touch Indian food with a pole and Indian people were of No interests."
Soon the Pushkarnas decided to expand their business to other parts of the country and their Chain of restaurants expanded to seven restaurants and a few Take Aways. Along the way Reena opened the First Kosher Restaurant in the world "Kohinoor" at the Hilton Hotel in Jerusalem. The only place the author has ever tasted an Indian Lassi based upon Soya Milk and not been able to differentiate between Real Milk Lassi and Soya Milk based Lassi, was at the Kohinoor Restaurant in Jerusalem. Today the Jerusalem, Tel Aviv & Herziliya restaurants are frequented by Israeli & foreign dignitaries, nearly on a daily basis.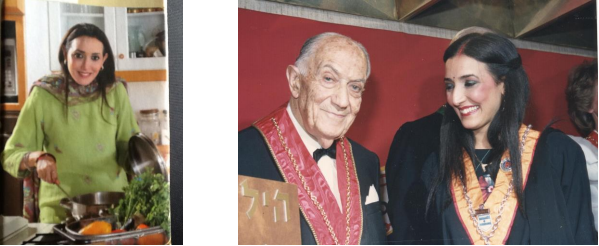 Reena on TV, Demonstrating Indian Cooking / Mr. Maurice Benin, President of "Chaine des Rotisseurs" (like being awarded a Michelin Star) Based in Paris – Awarded Tandoori-Indian Restaurant in 2007
---
The Pushkarnas also went into Ready-Meal Food production there they introduced Indian Kosher ready-to-eat meals to the Super Markets and the Institutional Market all over the world, including the Israeli Army. It did not matter that they did not succeed with it, but they being ultra-Zionists they created employment for 200 people in the north and the idea of ready-to-eat meals was introduced to the Israelis.

Exquisite and Authentic Indian Decor of Two of the Restaurants of the Pushkarnas
---
Several important International events have seen their origins at the tables of the Tandoori or Kohinoor Restaurant for example the Oslo peace talks-The famous Peace talks of OSLO were initiated in Tandoori Tel Aviv and not Jerusalem or Oslo-and was revived only after the famous handshake on the lawns of the White House -between Arafat and Rabin. The visit of the Egyptian Ambassador, The PLO delegation and today every new Israeli Ambassador and Counsel or Designated Official of an Israeli Company to India starts his tour of duty with a visit to the Tandoori or Kohinoor Restaurant. Their food was/is also
served on El Al, Air India & Air Korea. Reena was a member of the delegation of the 1st visit of an Israeli Prime Minister to India He introduced Reena as the most loved and Respected Indian in Israel -who taught us all what is Indian food. She told the Indian press that it was her mothers dream that one of her kids would settle in Israel -but she could not imagine that she would fly in on the delegation of the Prime Minister. If she were alive she would have distributed sweets all over India.
Vinod & Reena Pushkarna with Shree Rajnath Singh Home Minister of India
/
Vinod & Reena Pushkarna-21 years ago meeting with the first Indian Diplomats
---
Reena with the Rt. Hon. Narendra Modi Prime Minister of India
/
Reena with the Rt. Hon. Benjamin Netanyahu Prime Minister of Israel & his wife
---

Reena with his Excellency Mr. Shimon Peres the Ex-President of Israel
/
Reena with the Rt. Hon. Manmohan Singh Ex-Prime Minister of India
---

Reena with the late Rt. Hon. Arik Sharon Ex-Prime Minister of Israel
/
Reena with His Excellency Mr. Moshe Katzav Ex-President of Israel
---

Reena with the late Rt. Hon. Isaac Rabin Ex-Prime Minister of Israel
/
Reena with Ms. Hillary Clinton Ex- Secretary of State-USA
---
Vinod and Reena with the Rt. Hon. Prime Minister of Sri Lanka
/
Reena and Vinod with The Rt. Hon. Ehud Olmert Ex-Prime Minister of Israel
---

The Pushkarnas with His Excellency Ex-President Abdul Kalam of India
/
Invitation to the Swearing in Ceremony of the Rt. Hon. Narendra Modi Current P.M of India
---

Reena with Pundit Ravi Shankar the Famous Musician with the Shield of David Award
---

Acknowledgement from the Ministry of Defence Israel
---

Awards won by Vinod and Reena Pushkarna from Tandoori Restaurant
---
By
Nissim Moses
Historian Indian Jewish Heritage & Bene Israel Genealogy Research